With more than 35 years of diversified experience in TV broadcasting, a background in wine, food, spirits, and craft beer reporting, and a burning passion for food and wine, Emmy award-winning producer and host Dave Eckert's "Culinary Travels with Dave Eckert" has logged more than 275 episodes to date. Eckert's extensive knowledge of food, wine, and spirits, and his desire to take viewers to "the source" of indigenous products and personalities around the globe, has made "Culinary Travels With Dave Eckert" a huge success.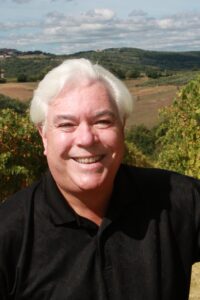 Recognized twice by the Academy of Wine Communications for his work, Dave has also built a loyal audience for "Culinary Travels," which currently airs on AWE-TV on cable, and previously ran on Public Broadcasting affiliates across the country along with Direct TV, The Dish Network, and can also be seen in the air on Delta, U.S. Air, and Northwest Airlines.
For the past three years, Dave has also been a regular contributor to Kansas City Chowtown, the food blog for the Kansas City Star. His contributions were part of the blog being awarded second place in a recent national competition for newspaper food blogs. Dave contributes local, regional, national, and international pieces on the people, places, events, and products that make our world such a delicious and diverse place.
We'll talk with Dave on The Connected Table LIVE! on September 30 at 2:25pm, to discuss his unique take on wine, wine regions, and food. We'll also get a sneak peek at the 2015 American Royal World Series of BBQ, an event three times the size of Memphis in May, which is taking place in Kansas City Oct 3-4, and at which Dave will be judging.