Date: September 1, 2015
MONSTER ENERGY AFTERSHOCK FESTIVAL
PARTNERS WITH SLIPKNOT'S SCREAM PARK
FOR OFFICIAL PRE-PARTY
HEADLINED BY HELL OR HIGHWATER
FRIDAY, OCTOBER 23 IN SACRAMENTO, CA
HELL OR HIGHWATER ADDED TO SATURDAY, OCTOBER 24
MONSTER ENERGY AFTERSHOCK FESTIVAL LINEUP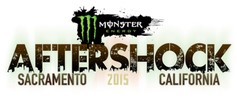 Monster Energy AFTERSHOCK Festival (www.aftershockconcert.com) has joined forces with Slipknot's Scream Park for the Monster Energy AFTERSHOCK Pre-Party on Friday, October 23 from 7pm to midnight in Sacramento, CA. Hell or Highwater will headline the Pre-Party (with more bands to be announced) and has also been added to the Saturday, October 24 lineup of the Monster Energy AFTERSHOCK Festival at Gibson Ranch just outside Sacramento, CA.
Slipknot's Corey Taylor and M. Shawn "Clown" Crahan have partnered with Sacramento based Scream Park California to produce an event that explores a whole new, intensely visceral world of horror, as only Slipknot can provide. Slipknot's Scream Park features three haunted houses and thunderous live horror entertainment. Slipknot's Scream Park will also have an onsite presence at Monster Energy AFTERSHOCK on October 24 and 25.
A limited number of guests can gain admission to the Monster Energy AFTERSHOCK Pre-Party by showing proof of purchase of an AFTERSHOCK ticket. This will allow free access to the AFTERSHOCK Pre-Party, which will include live music and food trucks. That night, guests will be able to go through the haunted houses at Slipknot's Scream Park for a discounted price of $15. More details will be available soon about music performances at the Pre-Party and how to obtain free Pre-Party admission, as space will be limited.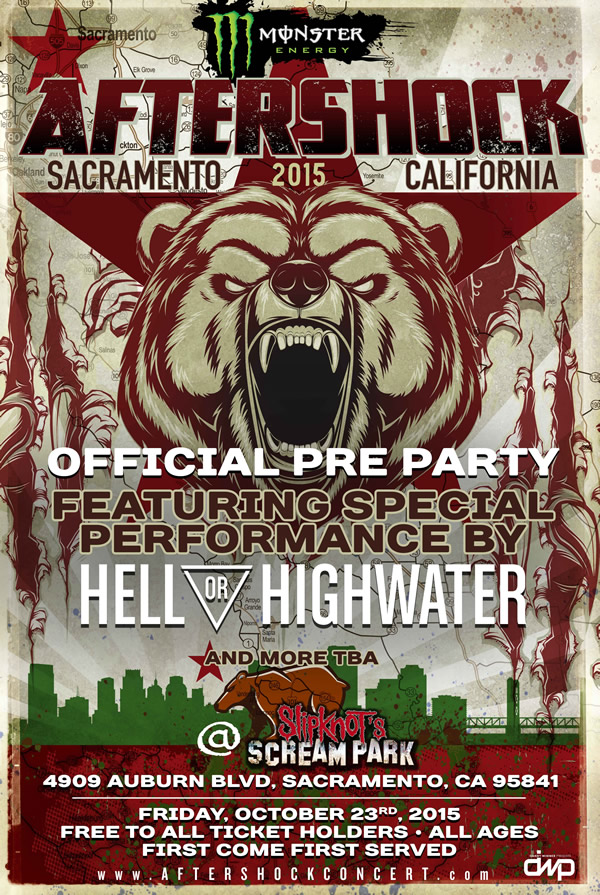 The fourth annual Monster Energy AFTERSHOCK will feature a spectacular music lineup of hard rock, alternative and metal artists, as well as an expanded festival site with onsite camping Saturday, October 24 and Sunday, October 25. The band lineup for Monster Energy AFTERSHOCK 2015 includes Slipknot, Faith No More, Deftones, Shinedown, Jane's Addiction, Marilyn Manson, Coheed & Cambria, Stone Temple Pilots, Breaking Benjamin, Seether, Bring Me The Horizon, All Time Low, Sleeping With Sirens, Eagles of Death Metal, Black Veil Brides, and many more performing on four stages. In addition, the festival will feature live, in-ring matches with WWE's NXT Superstars.
Visit www.AFTERSHOCKConcert.com to view the daily band lineup, and purchase VIP and GA tickets, as well as camping and hotel packages.
Slipknot's Scream Park is also offering an AFTERSHOCK Scream Park Bundle for $119.50. This package includes one 2-day General Admission weekend ticket to Monster Energy AFTERSHOCK and one Scream Park General Admission ticket (a $25 savings). Purchase your combo tickets for both Slipknot's Scream Park and Monster Energy AFTERSHOCK Festival at www.AFTERSHOCKConcert.com or www.slipknotscreampark.com.
Slipknot's Scream Park is located at 4909 Auburn Blvd. in Sacramento, CA.
For more information on Monster Energy AFTERSHOCK, visit www.AFTERSHOCKConcert.com. For info on Slipknot's Scream Park, visit www.slipknotscreampark.com.
Monster Energy AFTERSHOCK is produced by Danny Wimmer Presents, a producer of some of the biggest rock festivals in America, including Rock On The Range, Monster Energy Welcome To Rockville, Monster Energy Fort Rock, Monster Energy Carolina Rebellion, LOUDER THAN LIFE, Northern Invasion, The Big Ticket, Monster Energy Rock Allegiance, and more.
The festival is fueled by Monster Energy. Additional 2015 sponsors include: Coors Light, Jack Daniel's, Thunder Valley Casino Resort, WWE, The Crazy Dave's Music Experience, Dimple's Records, Marshall Headphones, Yelp, Sacramento News & Review, Sacramento Bee and more to be announced.
Website: www.AFTERSHOCKConcert.com
Facebook: www.facebook.com/AFTERSHOCKFestival
Twitter: http://twitter.com/AFTERSHOCKSAC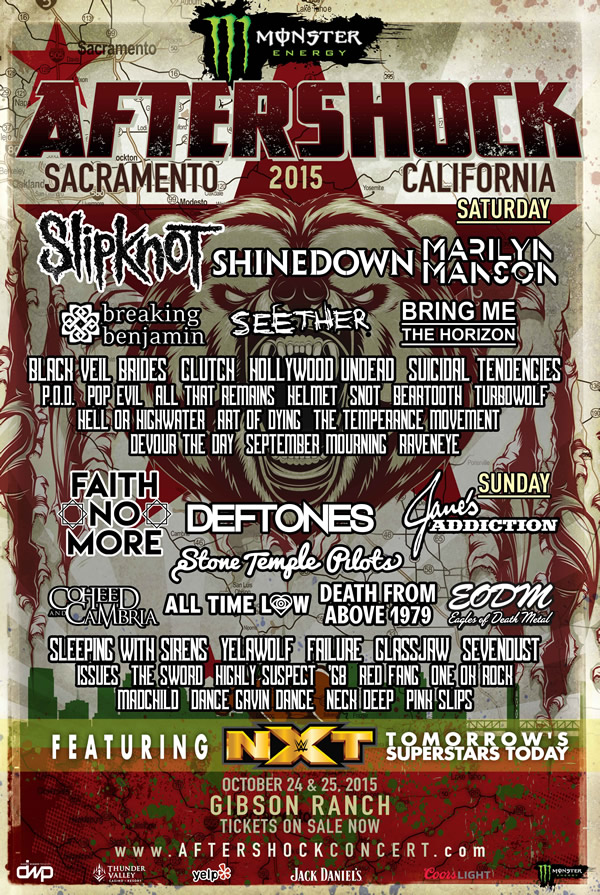 Monster Energy AFTERSHOCK Festival Publicity Contact
Kristine Ashton-Magnuson/Ashton-Magnuson Media
kristine@am-media.net; (818) 996-2496
Monster Energy AFTERSHOCK Festival Marketing & Sponsorship Contact
Clay Busch/Danny Wimmer Presents
Slipknot's Scream Park Publicity Contact
Andrew Raymond
andrew@screamparkcalifornia.com; (925) 470-0070
About Danny Wimmer Presents: Since 1995, Danny Wimmer has created, developed and produced events from the club level to multi-day festivals. Founded in 2007 by industry veteran Wimmer, Danny Wimmer Presents produces some of the largest U.S. festivals in the rock and alternative landscapes. By merging well-known talent with local cuisine and culture, DWP has become recognized within the industry for delivering the highest-quality, exceptional value entertainment experiences to customers, artists, sponsors, partners and host cities alike. Never satisfied with the status quo, DWP strives to create memorable and fulfilling concert experiences leaving both consumers and partners with lasting and meaningful impressions. Over the past six years, DWP has grown — while constantly innovating its production, promotion and fan experiences — from a partner in one single event to producing sold out events across the country, doubling its number of produced events between 2012 and 2013 alone. DWP plans to add as many as five new music festivals in 2015 to its already stellar portfolio, which includes Rock On The Range, Monster Energy AFTERSHOCK Festival, Monster Energy Welcome To Rockville, Monster Energy Carolina Rebellion, and LOUDER THAN LIFE, among others.
About Monster Energy: Most companies spend their money on ad agencies, TV commercials, radio spots, and billboards to tell you how good their products are. At Monster Energy, we chose none of the above. Instead we support the scene, our bands, our athletes and our fans. We back athletes so they can make a career out of their passion. We promote concert tours, so our favorite bands can visit your hometown. We celebrate with our fans and riders by throwing parties and making the coolest events we can think of a reality. www.monsterenergy.com; www.facebook.com/monsterenergy
****************************** Kristine Ashton-Magnuson ASHTON-MAGNUSON MEDIA (818) 996-2496 kristine@am-media.net
Current Clients:
Bass Player LIVE!
Danny Wimmer Presents
LOUDER THAN LIFE
Monster Energy AFTERSHOCK Festival
Motorhead's Motorboat
Rob Zombie's Great American Nightmare
ShipRocked
The Big Ticket