One of the best things I've ever popped in my mouth is a D'Artagnan French Kiss (prunes soaked in Armagnac filled with silky foie gras mousse). I can't resist them! On June 3 on The Connected Table LIVE! we visit with  Ariane Daguin, owner, Co-Founder, and CEO of D'Artagnan, the leading gourmet food purveyor of all-natural and organic meats, charcuterie, and mushrooms in the United States, which celebrates its 30th anniversary this year.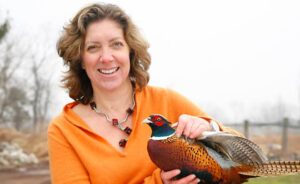 Revered as a culinary innovator among America's top chefs, Ariane has been at the forefront of the organic and sustainable movement in America, pioneering organic, free-range meats (years before the USDA allowed the word "organic" on the label), preservative free foods, and humanely-raised livestock for over 25 years. Ariane and D'Artagnan have since become renowned for putting the finest foie gras, meat, game, truffles, and mushrooms on the tables of American gastronomes, whether at home or in 4-star restaurants.
Born into a world of great food, Ariane's father, Chef André Daguin, is famous throughout France for his artistry with foie gras and other Gascon specialties. Ariane was expert at deboning ducks, rendering duck fat, preparing terrines and cooking game birds by the time she was ten. Her creation of D'Artagnan in 1985 has since introduced new epicurean foods to chefs and contributed to the growing sophistication in American cuisine. Today, D'Artagnan's products are served at leading restaurants and Ariane continues to infuse the indusry- and new generations of chefs- with her unbridled enthusiasm.
Among her many industry accolades, Ariane was recognized in 1994 by The James Beard Foundation's Who's Who of Food and Beverage in America. In 2005,  she received the "Lifetime Achievement Award" from Bon Appétit magazine. In September 2006, she was awarded the prestigious French Legion d'Honneur for her work making French cuisine a part of American life.  Ariane is also the founding president of Les Nouvelles Mères Cuisinières, an international association of prestigious women chefs and Les Dames d'Escoffier International.
We've been to a few of Ariane's D'Artagnan parties in the past. We can't wait to hear what's up her sleeve for the 30th anniversary.- posted Melanie Young 5/31/215
Connect:
Listen to The Connected Table LIVE Wednesdays 2pmET on W4CY
Listen to show podcasts anytime. Click here:
http://www.iheart.com/show/209-The-Connected-Table-Live