We have a soft spot in our hearts for Beaujolais Crus wines. They're always overshadowed by their flashy younger sister, Beaujolais Nouveau. We become annoyed when people confuse Beaujolais Nouveau with Beaujolais Crus and don't give either a chance. Beaujolais Nouveau is like the bright holiday sweater you bring out for the season to have some fun; Beaujolais Cru is the fine cashmere you wear year-round. They both have their place…and style. Just don't let anyone confuse them.
There are some many fine Beaujolais wines from the ten cru regions From north to south, each has its own subtle style: St-Amour, Juliénas, Chénas, Moulin-a-Vent, Fleurie, Chiroubles, Morgon, Régnié, Brouilly, and Côte de Brouilly. Many call them the gems of the appellation. So, we always wondered why the intense push to celebrate the release of the Nouveau received all bling. Well, they have their place at the table at different occasions.
For a "personality analysis" of each Beaujolais Cru check out this article from VinePair which also includes this helpful map: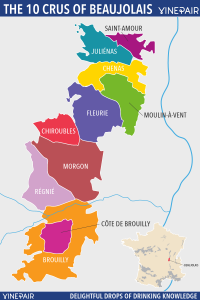 Cyril Chirouze oversees winemaking at historic Château Des Jacques, located in the villages of Romaneche-Thorins in the Moulin-a-Vent appellation.  The winery, now under the management of Maison Louis Jadot, focuses on traditional Burgundian methods of wine making: longer maceration, wild yeast fermentation, and aging in oak barrels for ten months to add complexity.
Recently we dined with Cyril in New York at DB Bistro Moderne and tasted a preview of a few Château des Jacques' 2015 releases. The wines were elegant, and Cyril was eloquent on the subject. He joins us May 31.