What is the recipe for becoming a successful food entrepreneur, and in what direction is food innovation heading? We discuss August 23 with Sarah Masoni, who manages the Product & Process Development Team working at the Food Innovation Center at Oregon State University.
We met Sarah at this summer's Fancy Food Show in New York presented by the Specialty Food Association. I was intrigued by her EXCITE talk on innovation and what makes a food entrepreneur and checked out the products from OSU entrepreneurs displayed at the show's "LevelUP" Future of Food exhibit.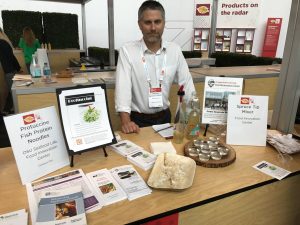 Whether it's food made from sea byproducts, sourced from the ground, or re-purposed from food waste, Sarah and her team help nurture entrepreneurs and drive innovation. What may be coming out of Oregon could be hitting the food shelves and our plates down the road.
August 23- The Connected Table LIVE! W4CY & iHEART.com