Harlem is one of the most historic and iconic neighborhoods in New York City and the world. We're Harlem bound this week to attend the Harlem Hospitality & Culinary Conference and will catch up with two personalities in the restaurant and bar world.
JJ Johnson, Chef de Cuisine  The Cecil Harlem and sister jazz club Mintons, had an awfully good 2014, and 2015 has started out pretty stellar.  In 2014 JJ was on both the Forbes and Zagat "30 Under 30" lists, was named an Eater Young Gun, and The Cecil was named Esquire Magazine's Restaurant of the Year.  This year, StarChefs named JJ the Rising Star for Community. And we are only in February.
JJ's culinary spark was lit from the expressive Caribbean flavors and influences he learned cooking at his grandmother's side. From home hearth to classical training, Johnson made the move to the Culinary Institute of America, giving a technical backbone to a well laid foundation of food love. He honed his skills in New York restaurant kitchens including Centro Vinoteca, Jane, and Tribeca Grill. Constantly in search of new flavors, Johnson also spent time in Ghana, studying West African cuisine and cooking at Villa Monticello, Ghana's Premier Luxury Boutique Hotel and Spa.
Now he helms the kitchens for two of Harlem's top hospitality  which he helped open under the auspices of Restaurateur and Executive Chef and owner, Alexander Smalls.  #HarlemontheRise
Connect: 
https://twitter.com/chefjoejohnson 
https://www.facebook.com/TheCecilHarlem
https://www.facebook.com/MintonsHarlem
 https://twitter.com/MintonsHarlem
Charles Hardwick began his bartending career humbly in 1992, at Acme Bar and Grill in New York City. It was here that he quickly grasped the most important fundamentals of the trade; understanding that even Lynchburg Lemonades and Oreo Cookie shots taste much better coming from the hands of a skilled and attentive barman. In those years before the current Cocktail Renaissance, he worked at a wide variety of bars and restaurants in the New York City area, among them such noteworthy venues as: Pravda, Mercer Kitchen and The Odeon.
A turning point in his career came whilst working alongside Jason Kosmas and Dushan Zaric at Pravda as part of a beverage program created by King Cocktail, Dale DeGroff. From the aesthetics of the bar to the crafting of a well-balanced libation, his vision of Utopia in a glass began to take shape.
In 2006 he reconnected with a former colleague and opened Blue Owl, the first of what would be many resurgent cocktail bars in the East Village. Voted NYC Best Cocktails 2 years running in 2006-2007 along with several features in the New York Times, The Daily News, The New York Post. 
Charles has most recently turned his attentions to the drinks program at the New York Times 3 star-reviewed and Michelin Star-rated Betony Restaurant in Midtown Manhattan, and he now currently operates drinkmärkt beverage consulting, a company that seeks to further relationships between brands and consumers through spirits consultation and the management of beverage programs for luxury clients including: Stolichnaya Vodka, Hendrick's Gin, Remy-Martin, Art Basel Miami, Vogue, Interview Magazine, Esquire, Victoria's Secret, the TriBeCa Film Festival, Diageo and many more.  He continues to evangelize on the nobility of the bartending profession and the pursuit of the perfect cocktail, served at the perfect moment.
Connect:
https://twitter.com/drinkmarkt
https://www.facebook.com/artmarkt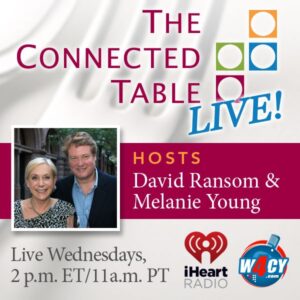 Join Melanie Young and David Ransom on The Connected Table LIVE! Wednesdays 2pm ET/ 11 am PT on W4CY.com and on demand any time at iHeart.com (under Shows & Personalities). Melanie and David are the Insatiably Curious Culinary Couple who bring you the dynamic people working front and center and behind the scenes in food, wine, spirits and hospitality.
Connect:
Link to show on iHeart.com
http://www.iheart.com/show/209-The-Connected-Table-Live
https://www.twitter.com/connectedtable
https://www.facebook.com/theconnectedtable