We have many friends in the food and beverage industry but none as dear to us like family as the Jammets. Parents Rita and André Jammet were proprietors of the La Caravelle restaurant, continuing the restaurant's legendary reputation for exceptional French food, wine and service. Always, an evening at La Caravelle was delicious and memorable, and we had many.  At the helm of La Caravelle, Rita and André truly "walked with kings" while keeping the common touch. Everyone who dined at La Caravelle was treated like royalty.  The Champagne flowed as generations of couples and families celebrated special occasions and moguls inked deals over classic French food served with quiet refinement.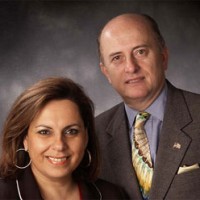 It was the end of an era when the Jammets decided to close La Caravelle in 2004. The socio-economic fallout from the September 11th attacks had not been kind to many New York City restaurants. The closing of La Caravelle was a terrible loss to the city and to the legions of customers who relished every moment dining at this amazing restaurant. But doors shut and others open. In Rita's case, it wasn't just doors opening; it was champagne corks popping.
Rita decided to carry on the torch and name with line of exceptional La Caravelle Champagne. The portfolio includes a blanc de blanc, brut cuvée and rosé, as well as a red Bordeaux from the Listrac-Medoc appellation. Her wines are now sold in dozens of NYC restaurants and elsewhere.
Rita applies the same dedication and hospitable nature to selling her champagne as she did to running her restaurant. On any given night she is out and about trying new restaurants, supporting charitable events and posting Tweets to acknowledge and praise chefs and sommeliers for their hard work and dedication. Even without her own bricks and mortar restaurant to oversee Rita is an indefatigable brand ambassador for exceptional hospitality, wine and food and all things fabulous and French. We are delighted that the spirit of La Caravelle continues with this sparkling reincarnation. And we are delighted to have Rita join us, followed by son Nicolas on March 25th on The Connected Table LIVE! as part of our Families in the Business series.
Connect
https://www.facebook.com/lacaravellechampage
https://www.facebook.com/rita.jammet
https://twitter.com/CaravelleChamp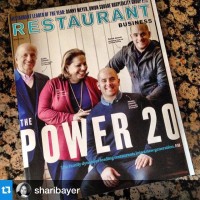 We were pleased to see Rita and Andre Jammet and entrepreneurial sons Patrick and Nicolas on the cover of the recent Restaurant Business Magazine. Third son Christophe, a technology entrepreneur, was on a holiday that included a marriage proposal on a mountain-top at the time of the photo shoot,
On March 25th we also chat with son Nicolas Jammet, Founder and Co-CEO of  sweetgreen, the much-loved, organic, farm-to-table salad shops originating in Washington, D.C. To say "the apple doesn't fall far from the tree" is an understatement with any of the Jammet sons and especially Nicolas.  His is a classic success story of three college buddies with an idea and a business plan. Nicolas graduated from Georgetown University's McDonough School of Business in 2007, where he met his business partners, Jonathan Neman and Nathaniel Ru.
The three entrepreneurs founded sweetgreen during their senior year, opening their first location in Georgetown in August 2007 – just three months out of college. The idea was born from their belief that the community would benefit from a healthy, delicious, and eco-friendly dining option.  They passionately believed it was possible to create "food that fits" – your values, your budget, your tastes, your imagination, and your community.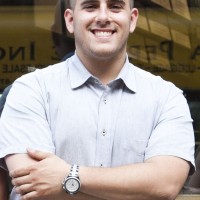 Since then, they have built sweetgreen to become the market leader in local, organic, healthy fast food, with over 1,000 employees and 29 stores throughout Washington, D.C., New York City, Boston, Philadelphia, Virginia, and Maryland. 2015 will see a West Coast launch with stores opening in Los Angeles and Santa Monica in early spring. sweetgreen has become a local favorite not only for its delicious, healthy, high quality and affordable fast food, but also for its commitment to local farmers, the community, sustainability, and an outstanding company culture.
In 2010, the sweetgreen partners founded sweetlife, which over the last four years has grown to become the Mid-Atlantic region's largest music and food festival. The event features a curated selection of cutting edge and high profile artists and attracts 20,000 attendees – not to mention outstanding food from top chefs, food trucks, local purveyors and farmers. The event embraces good living, along with health and well-being, community and sustainability, and leaves a gentle footprint as a carbon-neutral event – a party with a purpose.
Nicolas and his partners have been selected as Forbes magazine's "30 under 30: Food & Wine" and Food & Wine magazine's "40 Big Food Thinkers 40 and Under." The brand has received numerous accolades from the press, including The Washington Post, USA Today, Food & Wine, Forbes, Bloomberg, Washingtonian, CBS, and CNBC, among others.
Connect
http://facebook.com/sweetgreen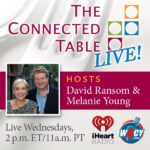 Join the Insatiable Curious Culinary Couple Melanie Young and David Ransom Wednesdays on The Connected Table LIVE! 2pm ET/11 am PT on W4CY.com  Shows podcasts are available on demand anytime at IHeart.com.  Each week we bring you the dynamic people who work front and center and behind the scenes in food, wine, spirits and hospitality.  Connect with us at:
http://facebook.com/theconnectedtable
http://twitter.com.connectedtable
Direct link to shows on iHeart: http://www.iheart.com/show/209-The-Connected-Table-Live