The April 1st edition of The Connected Table LIVE! is a "liquid lunch"chat with two vintage guests from the world of wine. We've had the pleasure with working with both on many occasions over the years, so pour a glass with us and tune in.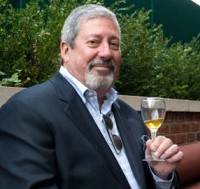 One of the most well-known voices on the radio, with his Blue Lifestyle Minute on WCBS, Anthony Dias Blue is recognized worldwide as a leading food, wine, spirits, and travel expert. His reach includes TV, magazines, books, and of course, radio. Andy also heads a food & wine events company and hosts food & wine competitions worldwide, most notably The San Francisco International Wine & Spirits Competition and the New York World Wine & Spirits Competition.
A James Beard Foundation Journalism Award recipient and member of the James Beard Foundation Who's Who of Food & Beverage in America, Andy's writing affiliations have included Bon Appétit  (where we worked with him for years producing events around the nation), Food & Wine and Zagat. He is currently Editor- in- Chief of The Tasting Panel Magazine and The SOMM Journal, two of the nation's top wine and spirits industry magazines, both of which he is also an owner.
His award-winning work spans all forms of media and is circulated to more than 30,000,000 consumers each month.,000,000 consumers 0,000,000 consume
We'll drink to that!
https://www.facebook.com/AnthonyDiasBlue
https://twitter.com/AnthonyDiasBlue
Anyone who has the stamina to travel  around the world for a year with Kevin Zraly visiting over 20 Countries, 80 wine regions, and 500 appellations, tasting more than 7,000 wines- for the sake of research- gets our bobble-head nod of appreciation. Not only that, but he's run with the bulls in Pamplona, but we won't go there!
We're talking about  Robin Kelley O'Connor who has spent 30 years in the wine trade as a leading educator, international wine judge, wine writer, advisor and sommelier.
Amidst his many speaking engagements, his current roles include "Collector Liaison" with Italian Wine Merchants (IWM) and wine instructor at the International Culinary Center, both in New York City. He also serves as lead consultant and wine expert behind Buy Wine Now!.
Well-known as a Bordeaux and European specialist, and authority on fine and rare wines, Robin was Director of Trade and Consumer Education in the Americas for the Bordeaux Wine Bureau (Conseil Interprofessionnel du Vin de Bordeaux) for 20 years, and was previously Lead Specialist & Head of Wine, Americas for Christie's Auction House.  Prior to Christie's, he was Director of Sales and Education for Manhattan wine and spirits retailer Sherry-Lehmann,
Robin is a past President of The Society of Wine Educators from which he also he garnered Certified Specialist of Wine (CSW) and Certified Wine Educator (CWE) certifications, and holds a diploma from the Wine & Spirits Education Trust.
Connect:
https://www.facebook.com/RKOVINE
Join Melanie Young and David Ransom, the Insatiably Curious Culinary Couple, Wednesdays 2om ET on The Connected Table LIVE! on  W4CY.com and anytime on iHeart.com, the #1 digital radio network in the USA.
As founders of the wine and food marketing and special events company, The Connected Table, Melanie and David bring you the dynamic people who work front and center and behind the scenes in food, wine, spirits and hospitality.
Here's our direct link to all show podcast which we encourage you to Listen "Like" and "Share."
http://www.iheart.com/show/209-The-Connected-Table-Live
Please connect:
http://www.theconnectedtable.com
https://twitter.com/connectedtable
https://www.facebook.com/connectedtable