As the revival of cocktail culture has seen its bloom blossom over the last decade, and more and more people have hopped on the bandwagon to learn about, and make cocktails, one of the people they have turned to to help educate themselves has been Southern Wine and Spirits of New York Director of Spirits Education and Mixology Allen Katz.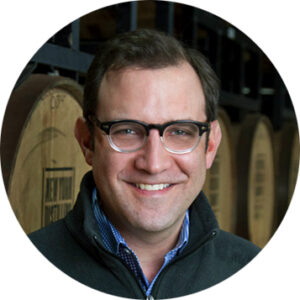 A longtime member of the cocktail community and one of the industry's great speakers, Katz has been at the forefront of making sure the industry has gotten its methods and spirits right. Yet, somewhere along the way, Katz decided he had even more to give, maybe some spirits of his own. So, a few years ago, in partnership with Brooklyn Brewery founder Tom Potter, Katz opened New York Distilling Company, a craft distillery in Brooklyn's Williamsburg neighborhood, that makes meticulously handcrafted spirits like Gin and Rye, all made to the exacting specifications and historical accuracy of Katz's discerning palate and knowledge.
With names like Dorothy Parker American Gin,  Perry's Tot Gin, and Ragtime Rye, NY Distilling's products are bottled odes to the great distilling culture of New York's bygone spirits industry, and speak to the legacy of the distilling prowess that New York once had and hopes to have again.
We're thrilled to welcome Allen Katz to our show on Wednesday January 20 at 2:25pm ET. Join us for a "spirited conversation."
THE ACERBIC MRS. PARKER
2 oz  Dorothy Parker Gin
½ oz  Fresh Lemon Juice
½ oz  Hibiscus Syrup
¾ oz  Combier Orange Liqueur
 Shake ingredients over ice and strain into a collins glass filled with fresh ice. Top with club soda and garnish with a lemon wheel. Serve with a straw.