Chef Alon Shaya was born in Israel, raised in Philadelphia and now lives in New Orleans where he oversees the kitchens at Domenica and his namesake Shaya Restaurant, and is a partner in both with Besh Restaurant Group.
He credits cooking with his mother and grandmother for fueling his career in food and the Culinary Institute of America for giving him his formal education. Alon was working as an intern at the Rio Hotel and Casino in Las Vegas when he met Octavio Mantilla, a co-owner of Besh Restaurant Group. Octavia recruited him to New Orleans, and Chef /Restaurateur John Besh took him under his wing. Alon credits John as the most influential non-familial influence  in his culinary life.
Located in the historic Roosevelt Hotel Domenica is recognized for its straightforward  family-style Italian cooking. The name "Domenica" means "Sunday" in Italian, a day when families in Italy gather for a festive meal overflowing with good food and wine.  Alon spent a year cooking and traveling in Italy to learn from both home and professional kitchens. Uptown, Shaya's Restaurant serves Alon's take on Modern Israeli cuisine while utilizing local and seasonal Louisiana ingredients. He went back to Israel in 2014  to immerse himself in the culture and cuisine of his homeland.
I dined at Shaya's in May. The words "fertile crescent" came to mind. The dishes I tasted conjured a caravan of flavors from a region of the world I long to visit again some day. Fortunately, we have restaurants like Shaya's that just require a quick trip to OpenTable to snag a coveted table.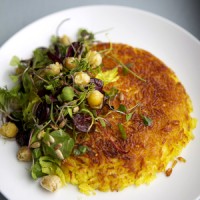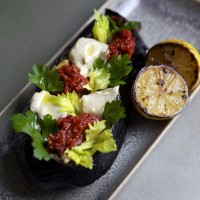 It's been a few good years for Alon: 2015 James Beard Foundation Award for Best Southeast Chef, 2014 Hottest Restaurant (Gayot), 2012 Chef of the Year (New Orleans Magazine).- Melanie Young, July 6, 2015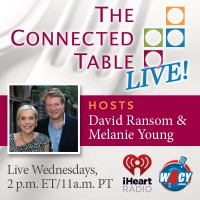 Chef Alon Shaya visits with Melanie and David July 8 on The Connected Table LIVE, 2pm EST (that's 1pm CST for our N'awlins friends.) on www.W4CY.com and www. iHeart.com. You can listen to show anytime on iHeart.com and the iHeartApp.  Or cut and paste here:  http://www.iheart.com/show/209-The-Connected-Table-Live
Follow Melanie and David on Twitter@connectedtable and Like us on Facebook.com/TheConnectedTable