I first met Michel when he was a rock n' roll chef at his restaurant Miche Mache in Connecticut. I've followed his career through his restaurants (Heartbeat at the W Hotel in Manhattan, The Dressing Room in CT)  and books Sustainably Delicious (Rodale),  Taste Pure and Simple  and Homegrown Pure and Simple(both Chronicle Books).
Michel has been a food activist long before other chefs were starting to flex their muscles and their mouths on the subject.  Growing up in a farming family, food production and appreciation for sustainable agriculture is in his genetic root stock.
In 2007, Michel  founded Wholesome Wave  with Gus Schumacher, former Undersecretary of Agriculture for Food & Foreign Services, as Founding Board Chair, and the late Michael Batterberry, Founder of Food Arts Magazine, as Founding Board Member. In 2008, Wholesome Wave piloted the Double Value Coupon Program at 12 markets in three states. Since then, the organization has launched numerous initiatives, including the Fruit and Vegetable Prescription Program and Healthy Food Commerce Investments and is recognized as a compelling model for expanding regional food access.
In collaboration with more than 80 community based partners, Wholesome Wave's programs have expanded to 33 states and DC and are implemented at more than 500 farmers markets, dozens of community health care centers, hospitals and food hubs throughout the country.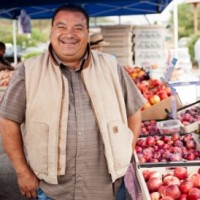 Wholesome Wave recently received a
$3.77 million grant from the USDA through the new Food Insecurity Nutrition Incentive (FINI)
grant program.  This three-year grant will support expansion of Wholesome Wave's national network of nutrition incentive programs, increasing affordable access of fruits and vegetables for more than 110,000 SNAP consumers in 17 states and DC, establishing a minimum of 177 new incentive programs at direct-to-consumer outlets, while simultaneously benefiting more than 3,400 small and mid-sized farm businesses.Wholesome Wave's grant is one of many announced as part of the larger $31.5 million allocated for the FINI grant program this year, a significant stride taken by the government to empower our nation's most food insecure to make healthy food choices.
Michel's commitment to educate the public, open the minds of legislators and help provide solution driven channels to fight poverty and put healthy, fresh affordable foods into the homes of people living in under served areas is one of the many  reasons The James Beard Foundation is honoring Michel as 2015 Humanitarian of the Year.- Melanie Young
Michel joins Melanie and David as a guest Wednesday, April 8, 2pm ET, on The Connected Table LIVE! on W4CY Radio. A podcast of the show will be available on demand at iHeart.com under Shows and Personalities. The direct link to all shows is here:
http://www.iheart.com/show/209-The-Connected-Table-Live
Connect with Michel and Wholesome Wave:
https://twitter.com/michelnischan
https://www.facebook.com/wholesomewave
https://twitter.com/wholesomewave
https://instagram.com/wholesomewave
https://www.youtube.com/user/WholesomeWaveTube
Michel Nischan speaks at the 2014 Food Tank Summit in Washington, DC
https://youtu.be/FQKRtyVyc6o?list=FLwavlrR7yuMAYeeTE-h7ypQ