One of the most fascinating places I have ever visited in South America is Bolivia. Albeit my trip was too short and too focused on recovering lost luggage when I visited many years ago with the intent on hiking. But the images still remain in my mind, and I am eager to revisit and linger longer.

I remember taking a boat ride on Lake Titicaca on Christmas Day. I remember the other-worldly Valley of the Moon.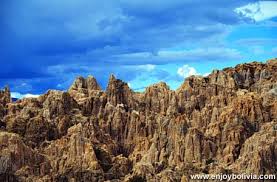 I remember the fragrant markets and the women wearing colorful clothes and bowler hats.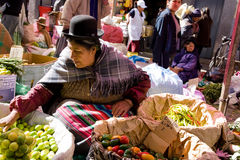 Yes, I remember the stunning visuals of this landlocked country located deep in the heart of South America just below Brazil that I knew nothing about when I first visited.
What I don't remember is the food.
So when the opportunity came up to visit with Kamilla Seidler, Executive Chef for Gustu Gastronomia S.A., a leader in the "Bolivian Gastronomy Integration (MIGA)" on The Connected Table LIVE! David and I couldn't resist.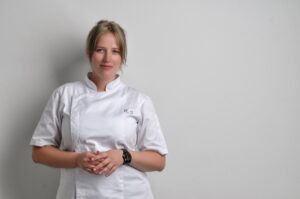 Kamilla was born in Copenhagen, Denmark.  Cooking has always been a natural part of her life. As a child she loved being in the kitchen, smelling, feeling, touching the ingredients of the typical foods prepared in her country. Kamilla studied cooking at Denmark's København Hotel & Restaurantskolen. She worked in some of the major restaurants of the world, such as the Mugaritz and Manoir Aux 'Quatre Saisons.
In 2012, Kamilla was recruited by Danish culinary entrepreneur, Claus Meyer, co-owner of Noma in Copenhagen, to go to La Paz, Bolivia, to open Gustu, with another chef, Michaelangelo Cestari (an Italian born in Venezuela). The kitchen truly is a "Melting Pot"
But Gustu is much more than a gastronomic destination restaurant earning international accolades such as S. Pellegrino's World's Best Award.  And there's more to this article in Food and Wine magazine asking whether is Gustu is the world's best new restaurant.
Gustu is also an educational center committed supporting local culture and cuisine. Since its beginning, Gustu has been a free learning and training center for young Bolivians (men and women aged between 18 and 28 years). The Gustu Training Center was opened in 2012 as an integral part of the restaurant with the mission to give Bolivian youth the opportunity to study and receive professional cooking training in state-of-the-art facilities.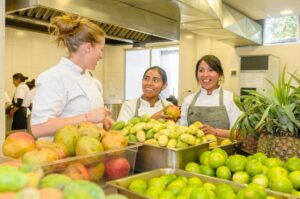 In its 30 month long apprenticeship program Gustu offers four specific lines of study: (1) Cooking, (2) Bakery and pastry, (3) Mixology and bar, and (4) Hospitality and beverage pairing. Students receive professional training within Gustu's restaurant facilities and have the opportunity to immediately put into practice what they have learned. Additional training is provided at the School of Productivity and Competitiveness of the Catholic Bolivian University with a Diploma in Business Management with a specialization in gastronomy. Since its opening, this school has graduated 25 students, all of them now successfully active in the workforce

The restaurant's website cites a culinary manifesto. The world's dining cognoscenti have taken notice. We're ready to book flights to La Paz to see it all for ourselves. In the meantime, we  look forward to learning more when Chef Kamilla Seidler joins us on The Connected Table LIVE Wednesday, December 2, 2pmEST. Please tune into W4CY.com to listen live.- Melanie Young
All our show podcasts can be heard anytime, anywhere (even inBolivia!) on iHeart.com and the free iHeart App. Here is a cut and paste link: http://www.iheart.com/show/209-The-Connected-Table-Live/
Learn more about Gustu, Bolivian food and Melting Pot Bolivia movement by visiting these links: