He grew up as a Navy brat, dropped out of high school to join a punk rock band and has been to all fifty states.  Graham Elliot  fell into cooking while working menial jobs in restaurants to support his musician's life on the road. Inspired, he enrolled in Johnson & Wales to receive his formal training and considers Rick Tramonto, Dean Fearing and the late Charlie Trotter among his mentors.
Graham first made a name for himself at Avenues restaurant at The Peninsula Hotel in Chicago where at age 27 he was the youngest chef to earn four-star ratings from the Chicago Tribune, Chicago Sun-Times and Chicago magazine, as well as a AAA Five Diamond Award. Along the way, Graham also was named one of Food & Wine's Best New Chefs (2004), Crain's (Chicago) 40 under 40, and received two Michelin Stars for his restaurant – one of only fifteen U.S. restaurants to receive that honor.
He's owner of Graham Elliot Bistro, opened in 2008, a popular dining destination for Chicagoans and foodies from all over the world, a testament to Elliot's inventive cuisine and engaging personality.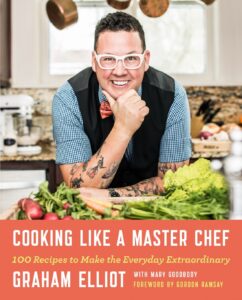 The dedicated father to three sons, Mylo, Conrad and Jedediah, Graham splits his time between his home base Chicago and his TV home in Los Angeles where he co-hosts alongside Gordon Ramsey on Fox Network's wildly popular MasterChef and MasterChef Junior series.
So where did he find time to write his first cookbook? Cooking Like A Master Chef – 100 Recipes To Make The Everyday Extraordinary  is just released, Designed to make any home cook a star in the kitchen, it's based on Graham's belief that A) food is best when it "tastes like itself" B) eat with seasons when possible C)  there is no right or wrong when it comes to creativity in the kitchen.
Chef Graham Elliot joins us on The Connected Table LIVE! on Wednesday October 21 at 2:00p.m EST. to discuss his new book, career, culinary philosophy, and maybe even some favorite punk bands. Connect: www.grahamelliot.com  twitter@grahamelliot  https://instagram.com/grahamelliot/
Graham Elliot Bistro 841 W. Randolph St. Chicago, IL 60607 312.888.2258